Taking inspiration from events traditionally organised by retailers like Topshop, student shopping events have become a staple part of many retail centres' marketing calendar, providing huge spikes in both footfall and spend within just a few hours – a dream scenario for centre management and tenants alike. But how do you get retailers on board with their best offers? And what can you do to entertain the crowds?
The student market is fertile ground for shopping centres, but events need to be carefully-targeted and managed.
Student events can be a great excuse to play with the traditional shopping centre set-up, relaxing rules, providing a wealth of entertainment and getting creative with quirky ideas to get students in and get them spending. Late September and early October are prime months, when student loans have just gone through and there are plenty of new-to-the-area freshers, while some centres choose to host their events in April when loan top-ups are paid.
Shopping centre event specialists, Maynineteen organises student events on behalf of clients such as Manchester Arndale and York Designer Outlet but according to director, Katie Coombes many are done in-house
We like to think of these events as the student edition of the shopping centre, just like Monopoly has several different editions – it's the same game, or centre, but presented in a certain way. The centre needs to be brought alive with students in mind.

For areas with a student population, forming a relationship with them early on in their student careers can be really beneficial, drumming up loyalty throughout their studies and afterwards – a lot of Manchester students, for example, end up staying in the city long after they've finished their degrees.

Katie Coombes, Director at Maynineteen
One successful example is at St George's shopping centre in Preston.
"It's grown over time," says Ken Williams, St George's general manager. "We started it five years ago replicating and building on the kind of student events that Topshop and other retailers have put on traditionally. It wasn't a new idea but we saw an opportunity to get a number of shops involved instead of just one. Preston is a university city with 30,000 students, so it's a huge market. More and more retailers have got involved over the years with 40 of our tenants now offering promotions, incentives and activities. It's been hugely successful, with footfall hitting 10,000 between 6-9pm on a single evening."
Getting retailers on board
If the event is a new venture and yet to be established it can be a struggle getting retailers on board with their best offers.
Getting retailers on board should be fairly straightforward, certain tenants like jewelers don't want to know but generally if you make a connection and communicate what you want to do there will be good retailer take-up, especially if it's an annual thing and the feedback is positive.

Katie Coombes, Director at Maynineteen
Lavinia Douglass, marketing manager at The Mall Luton, which welcomes over 6,000 students to its evening event, bringing in £90,000 worth of sales, explains: "When we embarked upon setting up our first student lock-in we had to demonstrate to our retailers that we really knew about the students in the town. We provided them with relevant statistics, KPIs of what we were hoping to achieve in sales and footfall and detail on how we would target these students in the lead up to the event. A number of retailers were on board straight away, but others took some persuading."
Douglass found that after the success of the first event in 2010, and landmark sales reported by participating retailers, the following event was a "breeze" in comparison when centre management made contact with both store managers and head office – more tenants wanted to be involved with better, more exclusive offers.  Participating retailers at The Mall realised that offering generous discounts led to higher sales, as Douglass recalls: "In 2010 the footfall into some stores appeared to be higher than it was in 2011 but their sales were much lower, showing that while students were browsing the store they were not necessarily buying. The discount made all the difference between looking and purchasing."
After last year's event, one store performed so well that the manager got a call from the area manager who mistakenly thought they'd entered their figures incorrectly.
"Typically retailers offer 20 per cent off, sometimes 25 per cent," adds Williams. "For some, often those who don't offer a standard student discount, it's 10 per cent but that might include sale and clearance items which aren't on offer to the public. And they'll often give out goodie bags and other freebies. Foot Asylum were giving out great stuff, in the end they had to suspend hand-outs to cope with the sales."
Extras incentives are always welcome, as Williams explains: "Individual shops don't have a budget for local marketing, relying on national campaigns to draw people in but with an event like this they can take advantage of the centre's marketing budget. We also allow retailers to go out on the mall, giving them extra exposure and the freedom to entice shoppers in. They respect that we're able to take the shackles off in that way, even tenants that don't want to trade on the night can give out leaflets."
 Entertainment
This is vital, giving students another reason to turn up beyond the discounts, but there does need to be a balance so activities on the mall don't deter students from spending in the shops.
Maynineteen will set up a stage and put on live bands, organise meet and greets and pamper sessions. They will also encourage retailers to put on activities of their own, hiring a DJ, for example – the centre will often pay for and set up sound and technical equipment, taking care of health & safety.
Coombes says,

We did a series of focus groups with students in Manchester to find out what students wanted from a shopping event. We found that students, unlike their penniless stereotype, are actually rich and free in many ways. High on their list was free alcohol which is problematic but we found a way to get around it by offering cocktail tasters at Manchester Arndale – there were various stands serving different cocktails but each student was limited to two alcohol units through a card stamping system.

They also wanted to feel welcome and important, able to play games and activities they wouldn't normally have access to and they wanted to see celebrities, particularly pop acts, X Factor and Britain's Got Talent contestants and Radio 1 DJs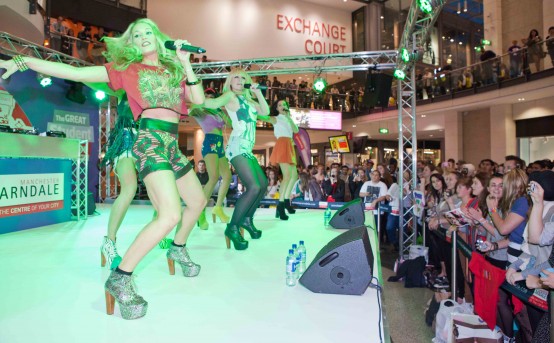 Douglass says, "Having a celebrity of the moment adds that extra buzz to the event, last year we had Arg from The Only Way is Essex who proved extremely popular with the ladies. This addition also helps spread the word of the event through social media sites with people tweeting about the arrival of the celebrity in question."
Choice of music is also important. PH Media provides audio services for clients including Selfridges and Botany Bay shopping outlet in Chorley.
"Music is perhaps the most important element in distinguishing different events," says Dan Lafferty, PH Media's head of voice & music. "You can tailor music to suit an audience, just as lighting can define a change in atmosphere so music can too."
Popular in towns and cities with large student populations like Manchester, Lafferty thinks the indie disco genre is most suitable: "The student/Topshop crowd like bands like The Maccabees and Foals. Certain retro songs from bands like The Cure and other 80s New Wave bands will also make the cut along with modern classics like The Strokes' first album Is This It?"
St George's also supports the community by inviting both local and national businesses and organisations to set up stalls. Local pubs and clubs put on DJ sets and give out CDs and vouchers to be exchanged for a drink at the venue, Rymans give out stationery and gyms give out day passes. According to Williams, the NHS stand is one of the most popular, running their 'Wii for a wee' Chlamydia testing service, whereby students who hand in urine samples are entered into a prize draw to win a Nintendo Wii game console.
Other quirky competitions included one from Holiday Inn which had recently replaced its pillows and had hundreds of spare ones to give away. Originally they contacted Williams with an idea to stage a pillow fight but it was decided that would be too messy. Instead the pillows were given away as prizes.
"It was a little bit off the wall," says Williams. "The pillows became trophies, people were cherishing them and taking them away with them. The hotel originally brought 200 with them but had to run back to fetch more – in the end they gave out 850."
The centre also hosted a local scare attraction, Hell, in one of its empty units, where students were guided through a maze complete with actors in suitably gory costumes. According to Williams, "people were scared out of the wits" with the screams coming from inside spreading curiosity to those on the mall. The centre also struck up a partnership with skiddle.com which sell gig and event tickets to students. They set up a 'bucking bronco' style ride with prizes for those who stayed on the longest.
"Local businesses have become more and more aware of the event and every year something new and different comes out of the woodwork – it's taken on a life of its own," says Williams. "We need to strike a balance between entertainment and sales but we're open-minded and keen to try things to hook students in."
Promotion
At Manchester Arndale, Maynineteen send out 'street teams' to target freshers and encourage them to register, taking details like email address to pass on to the centre to add to its database. And social media sites Facebook and Twitter are used to spread the word. Maynineteen also got permission to allow street teams to talk to students using Stagecoach buses, particularly those operating in student residential areas.
Manchester has some of the busiest bus routes in the country so the street teams branded up, wearing T-Shirts and wigs, and targeted student areas. Students are savvy, they're aware they're being marketing to so if they give up information they'll expect something in return – we gave out £5 vouchers and T-shirts. The campaign ran for a few weeks and we sent them an email a few days before the event reminding them to come.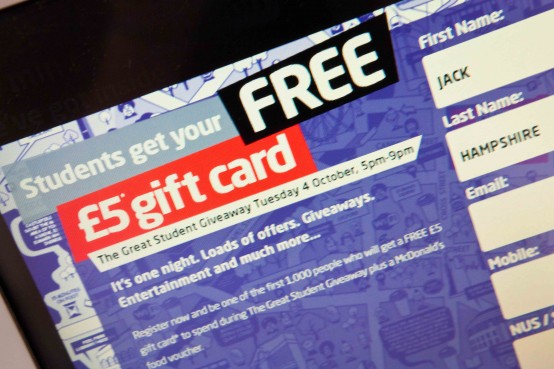 St George's event is promoted via Facebook – where students can register for free, something that has helped the centre build a 24,000-strong database – and through direct contact with the university and colleges, including taking a stall at Fresher's Fair. The centre films vox pops on the night and creates a short film which can be found on YouTube, and last year it staged a fake student protest outside the union night club, which they attained permission for beforehand.
"It was a fun way to promote the night and raise awareness," says Williams. "We had people ranting and chanting and holding placards saying things like 'we want free stuff!' It was a creative way to get the message across and it helped spread word of mouth."
They also produce literature in Chinese for Preston's 8,500 Chinese students, most of whom are from Hong Kong, something Williams says has been well received, seen as a comfort for international students who are new to the area. And it all pays off:
"Our aim is to get as many people in as possible and get them to spend on the night," says Williams. "Last year £250,000 was spent between 40 tenants in three hours, with spend in individual stores ranging from £5,000-£18,000. And stores like H&M and New Look often feature in the top three performing branches in the country."
Ticketing and security
Exclusive offers, and the potential attendance of a celebrity, attract large crowds which need to be expertly managed.
"The management team and security staff sit down well in advance of the event and work hard to deliver a plan of action to ensure we are covered for all eventualities," explains The Mall Luton's Douglass. "On the night we have a full complement of security officers and ensure that the main entrances are adequately manned.
"At the entrance points we check that students have an event ticket and student ID, and provide them with a leaflet detailing retailers that are open and the offers available. After the main rush of students arriving we keep all the entrances manned but focus our attention on the celebrity appearance. The appearance is planned for later on in the evening, in a bid to encourage students to spend more time and money in the centre."
Security is also strict at St George's. Tickets are sent out via email, or there is a text option for students who don't have access to a printer, which are then matched up with an NUS or similar student card on the door.
"The centre has three entrances. In the beginning we restricted entry to one but the queue was huge and in a 280,000-sq ft centre, it was taking 15-20 minutes for people to flow through to retailers at the other end. Now all entrances are in use on the evening, with three security staff at each, one outside and two in. Full evacuation procedures and warning messages are in place and any music is programmed to cut out in the case of an emergency."
Organisation
For St George's, the first Tuesday in October has proved to be prime time, as Williams explains: "January is no good because of Christmas expenditure and discounting on the high street. Students get their grant cheques in April but that's when they're engaged with coursework, so freedom from the curriculum is more difficult to pull off. We think one event a year works best.
"Now we've worked out the model, it takes less and less time to organise. We'll have an evaluation post-lock in in October/November time and think about what worked and what didn't. Then we'll have our first meeting in June or July to pin down a date, make retailers aware of it and look into PR and social media.
"We've got a reputation now. In the early days it was difficult to get buy-in but it's easier now. We've had enquiries from students in other towns and cities who'd like to attend – we don't lay down a restriction on catchment so our aspiration now is to become known regionally for the event, and reach out to other nearby universities like Lancaster."
Williams has a morass of adjectives to describe the event from noisy, to buoyant, raucous to raw but, he says, it's all good humoured fun: "We're not reckless but it's only when you're out of your comfort zone that you realise what you can do," he says.