The retail landscape is changing.
Despite technology shifting consumer behaviour, 85% of us still prefer to shop in physical stores. It seems obvious – We like to touch and feel products before making purchase decisions, but nobody likes to queue up right? So hello click and collect! Tech has made shopping simpler and now consumers are looking for more from the retail experience, something that takes us beyond the purely transactional relationship. Entertainment is a good start, and education, we want to learn about products from well-informed brand associates. I know I'm more likely to part with my money following a positive interaction with knowledgeable staff. Retail events are a good way to deliver both, raising the game for consumers.
What are shopping centres doing to keep up?   
As consumers, we're savvier, shopping on impulse whenever and wherever we want, so brands are expected to work much harder in order to maintain our loyalty. Retailers are having to adapt quickly to stay ahead and the same goes for shopping centres. The clever ones are finding innovative ways to create a bond between brand and consumers. Exciting and memorable live retail events actively encourage people to get involved with a brand; and with 98% of consumers saying they're more likely to purchase a product after experiencing it at a live retail event, these experiential style campaigns have simply become too valuable to ignore.
By stirring positive emotions in people shopping centres encourage brand loyalty by association. If people feel personally connected to the space they will keep coming back for more and that's something online retailers simply can't match!
So what makes a great experiential event?
Disney Junior TV show Doc McStuffins is a perfect example. The show is about a six-year-old girl who can communicate with her toys and fixes the broken ones in her pretend clinic with the help of her friends. In 2014 Disney recreated Doc McStuffins' clinic in various UK Toys R Us stores and invited children to dress up in a doctor's lab coat. With their very own stethoscope and clipboard, kids learned all about their patient, Big Ted's symptoms and how to make him better through diagnosis and treatment. The 10 minute immersive experience involved putting a plaster on Ted as well as checking his heart rate before being presented with a certificate. Additional giveaways and exclusive offers on merchandise were available to participants and redeemable instore. Around 8,000 kids took part in the event with most rating it as 'excellent'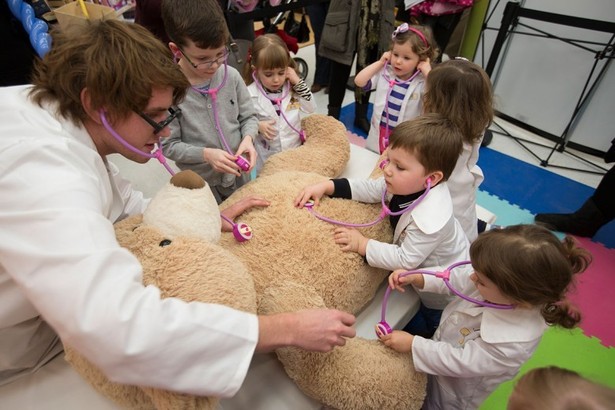 Smart retail events.
The Disney example is brand specific but shopping centres need to think in the same way if they are to raise awareness, build relationships and increase customer loyalty. Live retail events encourage word of mouth endorsements, establish long term relations and can even generate sales in the short term. It's not rocket science, it just takes a little thought and planning.
The event theme should be universally appealing, driving every detail of the atmosphere and environment. It should be authentic and meaningful to the brand, something the target audience can identify with. Consider what makes the event unique and emphasise that connection. It might be a shared celebration, recognisable characters, or a community activity.
Raising the game.
Our recent Love-Lock In event over Valentine's weekend was exactly that; a community activity that raised money for local charities, lifted spirits and warmed hearts everywhere. Singles and couples were invited to write special messages on padlocks before fixing them to giant metal frame hearts installed directly in the malls. Padlocks were offered to consumers in a variety of ways; in return for voluntary charitable donations, free with minimum spend, or via a retailer-specific promotion. The Paris bridge inspired event ran over two days, with over 600 participants and a significant sum raised for charity. One visitor commented, 'It was a joy to watch the locks build up over time and to read all the messages of love, such a delightful way to bring the community together and do some good.'
Our advice:
Think smart; be creative, get organised and remember the all-important 'Event Dos and Don'ts'… But more about that later!
Watch this space for advice from experts on the dos and don'ts of retail event planning coming soon.